QUALITY BAIL BONDS SERVICE IN MCKINNEY, TX
GETTING PEOPLE OUT OF JAIL IN DALLAS AND COLLIN COUNTY, TEXAS
---
If you or someone you love has been arrested, you need an experienced bail bonds company that can help you arrange for release as quickly as possible. In McKinney, TX, Delta Bail Bonds is standing by to make sure your visit to our local jails is a short one.
When someone gets arrested in McKinney or the immediate surrounding area, they go to Collin County Jail. They will be fingerprinted and booked in, which usually takes a few hours. During this time, you will likely get a phone call, so you can use this opportunity to call a relative or friend who can coordinate with us for your release or us. After booking, there will be an arraignment. Arraignment is a court proceeding where charges are presented, and your bail amount set. Bail amounts vary based on many factors. Criminal history, flight risk, and risk of danger to others are all taken into consideration. Once the bail amount is set, you can secure a bond from us for 10% of the bail amount, and we will arrange for your immediate release.
ABOUT MCKINNEY TEXAS
---
OFFICES LOCATED JUST BLOCKS AWAY FROM COUNTY JAIL
---
McKinney, TX, is a small city located about 30 miles north of Dallas, TX. It is located in Collin County and is the Collin County seat. Other notable cities and towns in Collin County include Allen, Anna, Celina, Melissa, Plano, Princeton, Prosper, and Wylie, to name a few. Because McKinney is the Collin county seat and the county jail is located here, we often receive transfers from local jails in these and other neighboring cities.
McKinney is one of the fastest-growing cities in North Texas, boasting over 191,000 people in 2018, up from about 131,000 in the 2010 census. With such explosive growth, one might expect an increase in crime. However, McKinney has managed to keep crime at bay and maintain a strong sense of community and a small-town atmosphere. It is consistently voted one of the best places to live in Texas and the United States.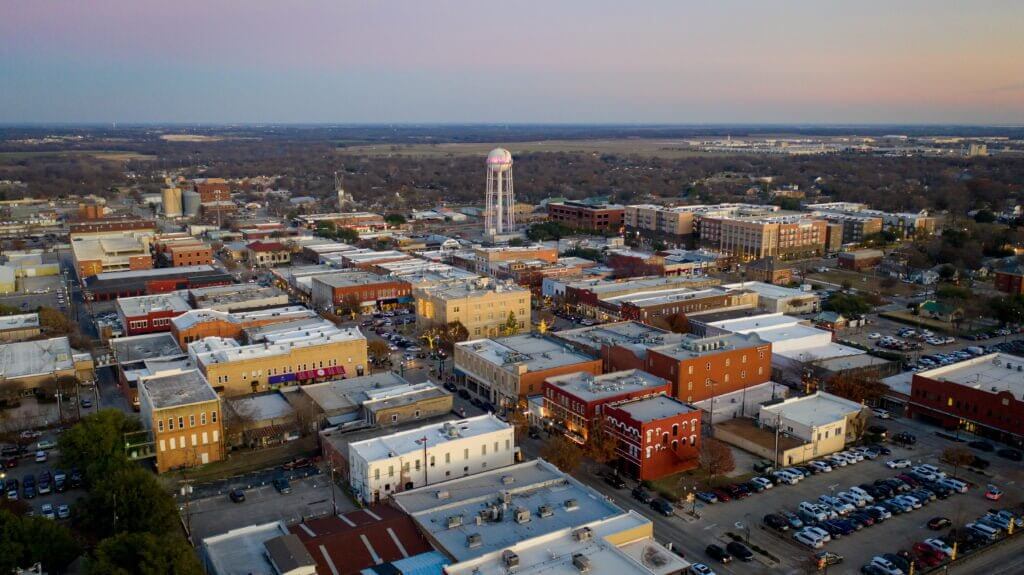 If you are arrested in Mckinney, Texas call Delta Bail Bonds!
McKinney police have a great responsibility to maintain the city's lower-than-average crime rate. Therefore, visitors and new residents should take a great deal of caution within the city limits. Traffic violations, outstanding warrants, and any major crime like theft or burglary are taken extremely seriously. The McKinney police department is well equipped and staffed, so you can expect any criminal behavior to be swiftly acted upon.
WHY DELTA BAIL BONDS?
---
Delta Bail Bonds is experienced with posting bail in McKinney and the entire Dallas area. We are familiar with the local jails and judges and can navigate the system with ease. This helps speed up the process of getting inmates released. Also, we offer a fantastic customer service experience, including:
Help decide bail terms, such as anger management, drug or alcohol treatment programs, etc.
If your loved one violates the terms of their bail agreement or becomes a flight risk, you can contact us immediately to have them returned to jail. This prevents the forfeiture of the bond and protects your assets.
Confidentiality. Even if your case is high profile, we don't disclose any information to media or other prying eyes.
We're always available 24/7, 365 days a year.
We accept cash and all major credit cards. We can even help you set up a payment plan if needed.
YOU CAN COUNT ON DELTA BAIL BONDS
---
If you have been arrested in McKinney, TX, don't wait to get the bail bonds process started. The sooner you or a trusted friend or relative gets in touch with us, the sooner we can start arranging for your release. Located just blocks from the McKinney Municipal Court and only about 10 minutes from the Collin County Jail. We work with all financial situations, and we can help arrange for financing and payment plans for those who need them. When you need to get our of jail fast, make your first phone call to Delta Bail Bonds!