If you were caught selling drugs or arrested for drug possession in Arlington, Texas, you could be facing grave consequences, depending on the drug and the quantity. You will need a great defense system to prepare you for court. Don't struggle with finding your defense while being stuck behind bars. Delta Bail Bonds can get you a speedy release, so you can build up your case.
Consequences of Drug Possession or Distribution
You will be charged with drug possession if you intentionally or knowingly possess enough of a controlled substance for personal use or to sell (and without a valid description if that applies). The penalties are a lot harsher if you intend to distribute the drugs.
Some consequences include probation, temporary driver's license suspension, mandatory addiction treatment, jail time, and large fines. Factors that determine the consequences include the type of drug you are caught with, the amount that you have, if a minor is present when the offense was committed, and if there's evidence that you intended to deliver or sell.
You can be imprisoned from 6 months to 99 years. And the fine can range from $2,000 to $50,000. The bail amount doesn't fall anything short from this range either. As you can see, drug possession and distribution is taken very seriously in Texas. Therefore, you need to get out of jail quickly to prepare your defense system.
What Happens When Arrested in Arlington, Texas?
When you are arrested in Arlington, Texas, you are most likely taken to the Arlington Police Department Jail. Here, they will take your fingerprints and photograph you, document your belongings and book your stay. You will also be assigned an arraignment date, which is when you will face the judge. The judge will tell you what you are convicted of, as well as if you qualify for bail. There are many factors that influence the judge's decision, such as your criminal background, your flight risk, and the severity of the crime.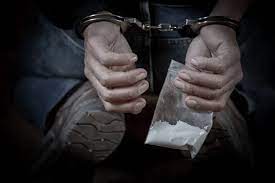 How Bail Works
If the judge grants you bail, get in touch with Delta Bail Bonds right away. We can post bail for you for a fraction of the original amount. Judges often set the bail amount very high. It's almost impossible for anyone to afford. Authorities only accept cash for the bail, and only until you pay the full amount will you be released from jail.
You only need to pay 10 percent of the bail amount to secure a bond with Delta Bail Bonds. We will cover the rest. Our team also offers a variety of payment methods that allow the use of credit cards and collateral. Affordability is our main priority.
Reviews from Satisfied Customers
Ryan Rogers
Great people. They are very helpful and respectful. Posted my bond very quickly.
Stephen Torres
TRENT was nothing short of professional last night. His job knowledge and experience put my mind to ease. When you have to make real life decisions this is the place to go!
Delta Bail Bonds Has Your Back
You don't have to face arrest in Arlington, Texas, on your own. Get in touch with our professional bail bondsmen today. Delta Bail Bonds has been in the business since 1990. With our 30 years of experience, we have seen and dealt with all kinds of cases and successfully gotten speedy releases for our clients. Our bondsmen know the ins and outs of the justice system, and we will assist you every step of the way. Delta Bail Bonds offers complete confidentiality. We will get started on your case, as soon as you give us a call.
Have you Been Arrested for Drug Possession in Arlington, Texas?